It's Aboat Time Yacht Restorations LLC
The Yacht Restorations Service Provider You Can Trust
Your Trusted Provider of Boat Detailing Services
Your boat is a huge investment. Therefore, you have to take an active approach in maintaining or increasing its value. At It's Aboat Time Yacht Restorations, we help you take care of your boat or yacht the right way. We are the preferred detailers for both Leopard and Lagoon catamarans in the region plus many more.
We offer a comprehensive range of services designed to give your vessel an astonishing appearance and keep your investment in top shape. Contact us today for a free quote or estimate.
About the Company
It's Aboat Time Yacht Restorations in St. Augustine, Florida is a LICENSED, INDUSTRY CERTIFIED and INSURED mobile boat detailing company that is backed by almost two decades of industry experience. With the knowledge of detailing experts, who have worked on boats for most of their lives, we guarantee to preserve the beauty of your investment.
Operations Director
Francisco Sprott started his boating career as a Boarding Officer for the Dutch Caribbean Coast Guard in 2002 stationed on the Dutch and French island of St. Maarten/St.Martin. Though there was nothing fancy about patrol boats, aside from his duties as a maritime law enforcement officer, his other responsibilities were to help maintain the fleet. After serving his country for 5 years, he started a new career in the yachting industry, where he worked as a catamaran captain, and a deckhand/third engineer responsible for the overall maintenance of the decks and the engine room of a 200 ft. luxury yacht.
During his 3.5 years in the yachting industry, Francisco developed and mastered the skills in yacht detailing which he is very passionate about. Today, he owns and operates a full-service boat cleaning, boat detailing and yacht restoration business committed to excellence, great customer service while protecting your investment using only the finest quality marine-grade, and environmentally-friendly products.
You can rest assure that Francisco and his team will take great care of your boat as if it were theirs with meticulous care.
Mission
At It's Aboat Time Yacht Restorations, we stand by our motto: " We Make Yachts Great Again". That's why we are trained and certified to offer a wide range of boat detailing services to meet your individual needs.
Our objective is to make boats great again by achieving the utmost excellence in restoring heavily oxidized boats and deliver showroom-like results for boat and yacht owners in Northeast Florida. Whether it's just a one-time wash, bi-monthly wash and wax or a full interior cleaning and sanitation, we can get the job done, meet your deadline, and get you back on the water in no time.
Vision
Our vision is to become Northeast Florida's most trusted marine detailing and yacht restoration experts while providing our clients with top-notch quality service.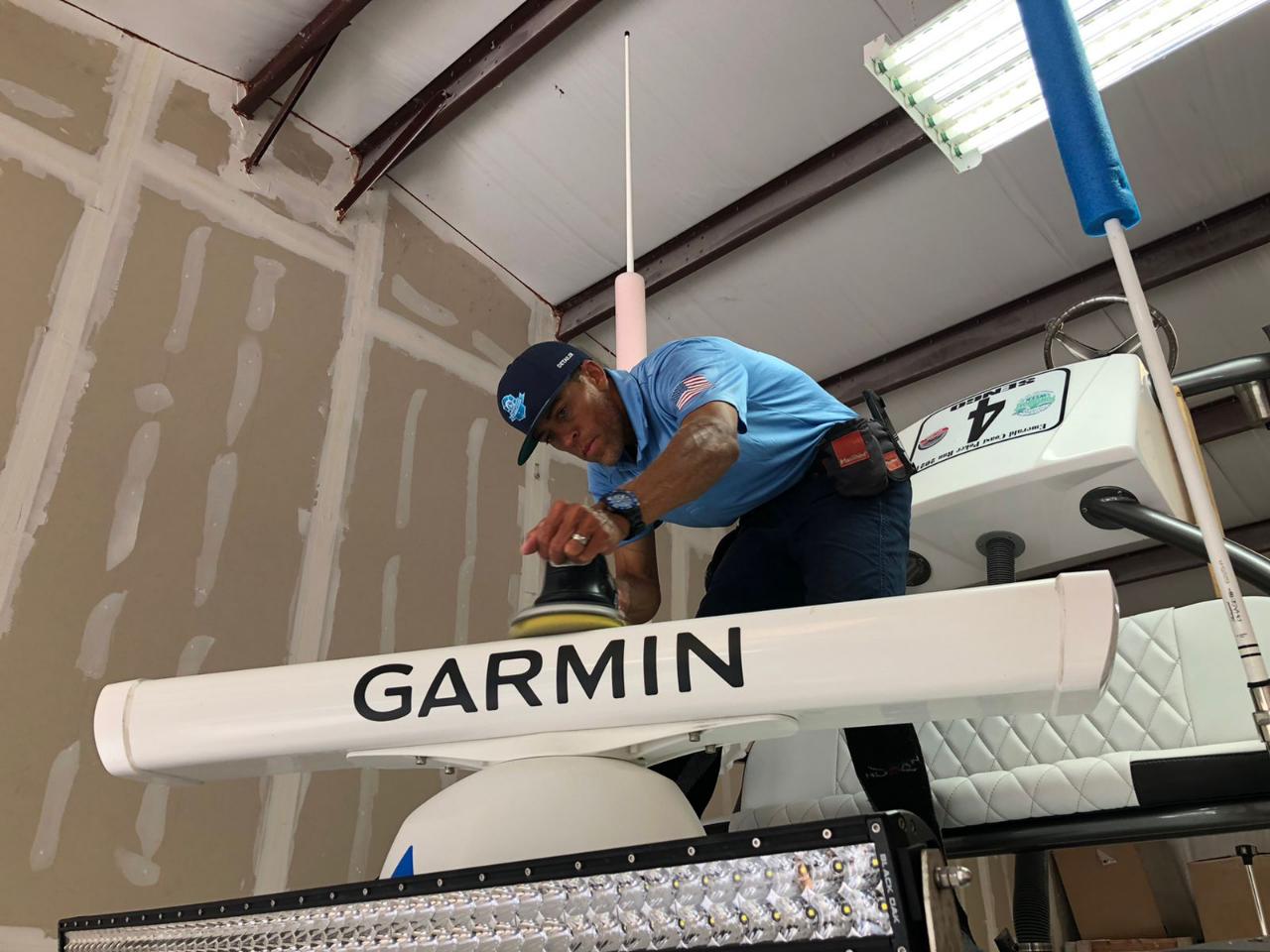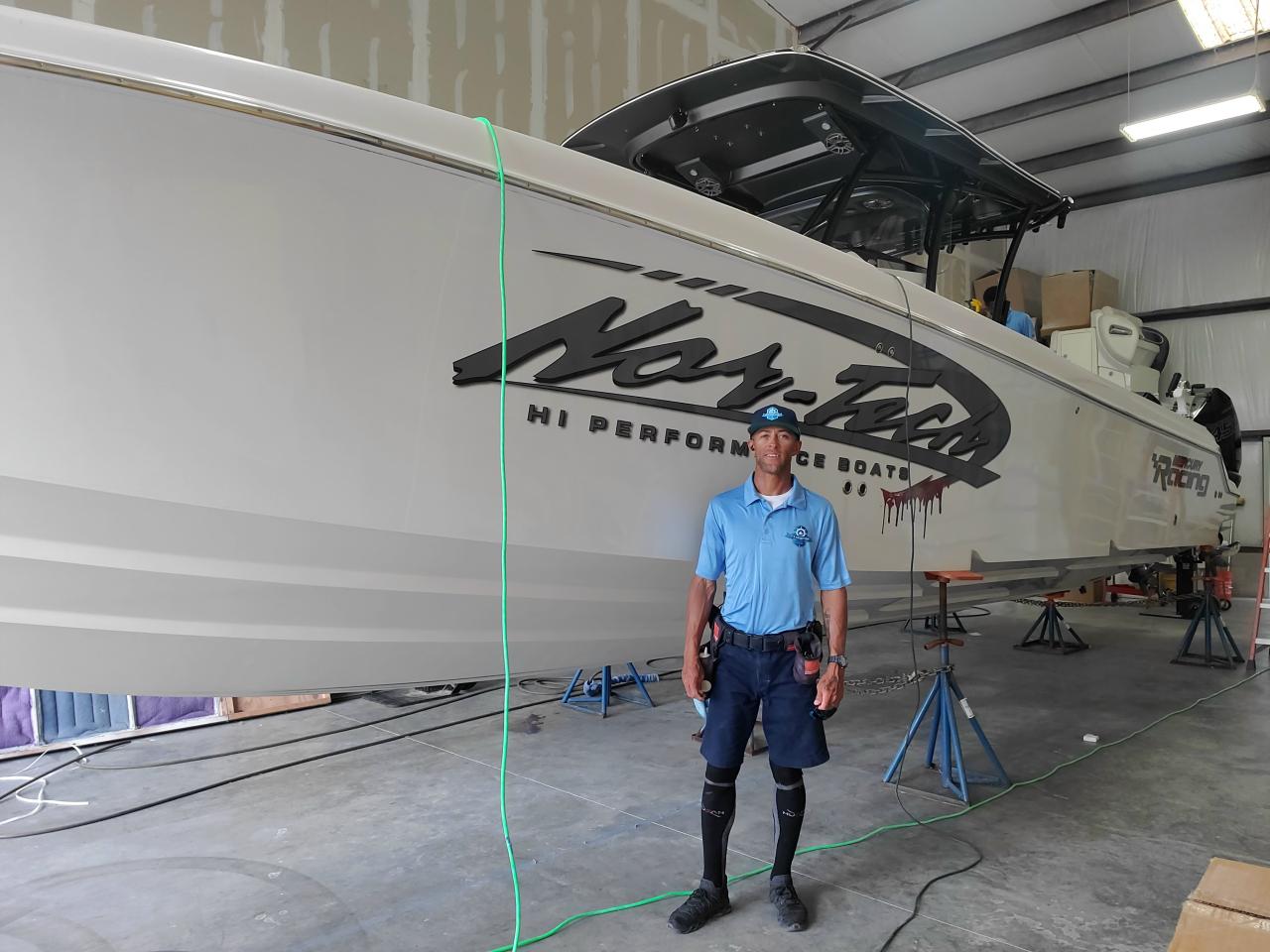 Meet the dynamic team of Its Aboat Time Yacht Restorations.
To the left: Mr. Scott Schnell Project Manager with over 40 years of shipbuilding and refinishing experience.
Centered: Mr. Francisco Sprott, Owner and Operations Director.
To the right: Mr.Thy Verath, Gelcoat/Fiberglass Repairs Specialist & Crew Leader.
Together we are making boats great again!